Up and Running Treatments offer Sports Therapy for everyone. Sports Therapy is an aspect of complementary health-care that is growing in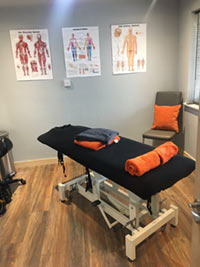 stature. Many of its practical methods have developed traditionally over a long period of time. It is aimed at helping individuals improve their health fitness, and functional or athletic performance. Sports therapy is getting more popular, and can be used by all individuals, not just sports people to help prevent and treat injuries. Sports Therapy helps improve fitness, posture, mobility, strength, agility, relaxation, body awareness and well-being.
Our Sports Therapists offer treatments including sports massage, joint mobilisations, kinesio and athletic taping, electrotherapy and soft tissue techniques to rehabilitate clients back to optimum levels of functionality and sports specific fitness regardless of age and ability.
Conditions regularly dealt with by our therapists include:-
Back pain
Knee problems
Shoulder problems
Tennis Elbow
Plantar faciiates
Ankle problems
Joint stiffness
Muscle strains
Ligament sprains
Injury Rehab
Achilles Tendon Sprain
The treatment that you will receive from us is more than a collection of different techniques, it is the combination of these techniques that adds a new dimension. We use our professional knowledge, instinct and experience to treat our clients in a relaxed, warm and clinical environment when working from our clinics in Mundesley and Southrepps.
The Clinics operates out of our treatment rooms in Mundesley and Southrepps, daytime and evening appointments are available. Event work available on request please email us with your requirements